Matchfy's New VIP Plan: Promote Your Music to Thousands of Playlists with One Click
Matchfy, the popular music promotion platform, has recently introduced an exciting new feature for artists and musicians: the VIP plan.

This plan aims to simplify the process of reaching out to playlist curators and increase the chances of your music being added to their playlists. With just a few clicks, you can now submit your songs to thousands of playlists, saving you time and effort in promoting your music.
So, how does the VIP plan work? Let's take a closer look at its features and benefits:


📨 Customized Email Campaign: Matchfy sends a personalized email to all the playlists in your selected genre on their platform. This email contains your selected tracks and is delivered to the curators through their provided Matchfy.io email address.
Notification of Playlist Inclusions: Whenever a playlist curator adds one of your songs to their playlist, you receive a notification via email. This ensures that you are always updated on the progress of your submissions. 📩
Accessible Playlist Information: After purchasing the VIP plan for a specific track you want to promote, the playlists to which your submission was sent will become visible in the "VIP PROMOTION" section of your Matchfy.io profile. This section allows you to view the curator's contact information, providing you with the opportunity to personally connect with them to potentially expedite the inclusion of your songs in their playlists. However, it's important to note that the final decision rests with the curator, and Matchfy cannot influence the selection process.
Pricing and Customization: The cost of the VIP plan is calculated based on the artist's popularity and the number of playlists to which notifications will be sent. This personalized pricing model ensures that you receive a tailored service that meets your specific needs.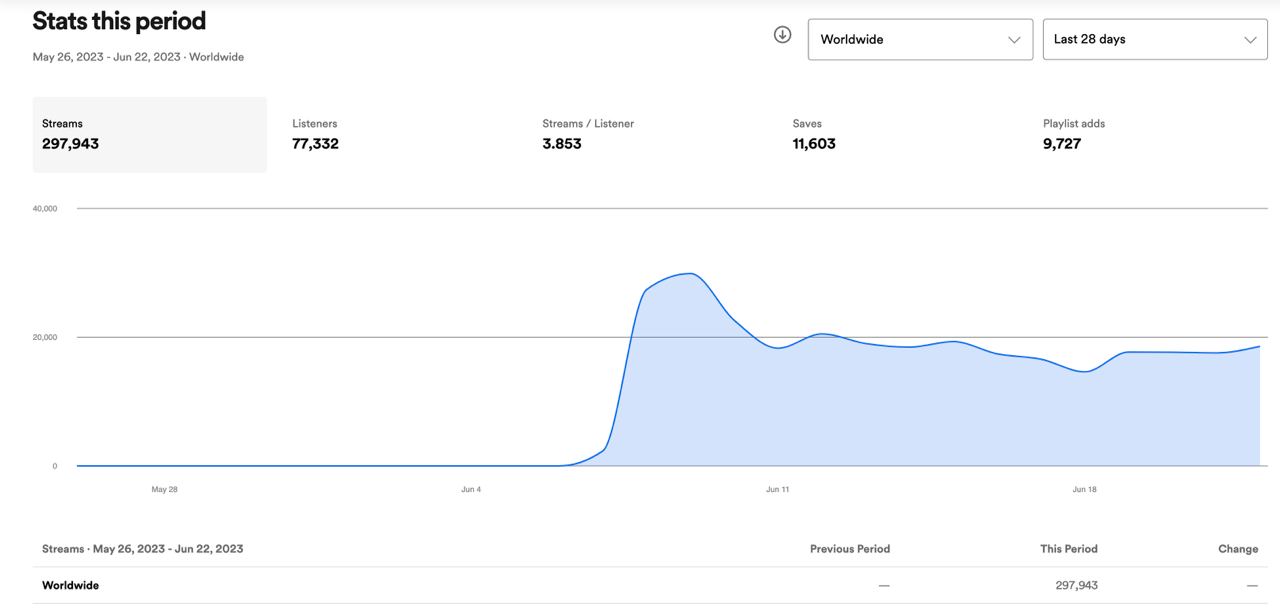 One aspect that sets Matchfy apart is its commitment to strictly adhering to Spotify's guidelines.

Matchfy promotes organic inclusion of your songs in playlists without any financial exchange.

Curators decide to include your tracks solely because they love your music, fostering genuine connections between artists and playlist curators.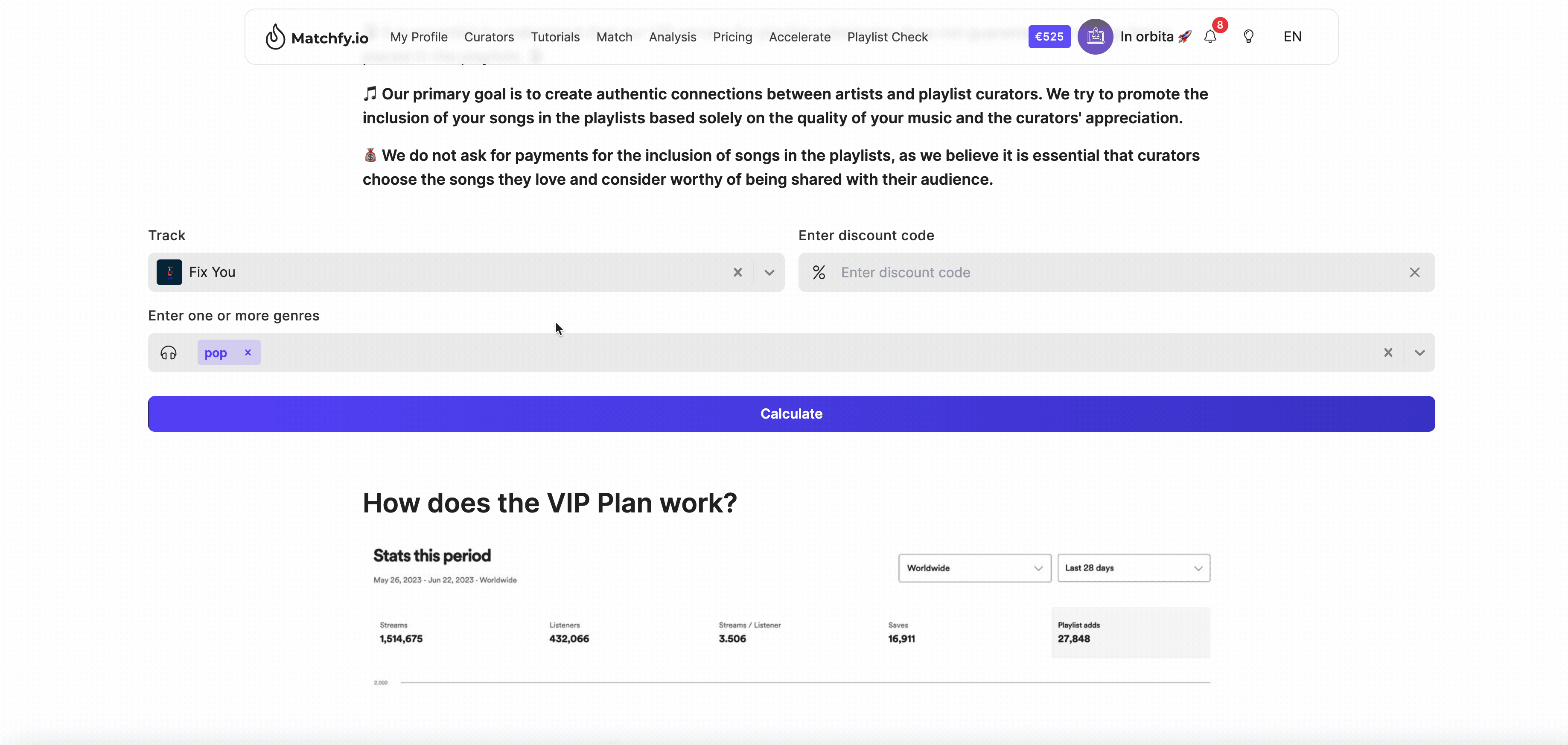 Matchfy's VIP plan aims to provide a transparent and rule-abiding service, offering you the best possible opportunity to promote your music. The platform's emphasis on authentic connections and the quality of your music helps ensure a genuine and meaningful placement of your songs in playlists.
It's important to understand that while Matchfy's VIP playlist submission service doesn't guarantee playlist placements, it strives to create authentic connections between artists and playlist curators. The platform promotes the inclusion of your songs based on their quality and the curators' appreciation, rather than any financial transactions.
If you have any further questions or concerns, the Matchfy team is readily available to assist you. They are dedicated to providing a top-notch service and supporting artists in their music promotion endeavors.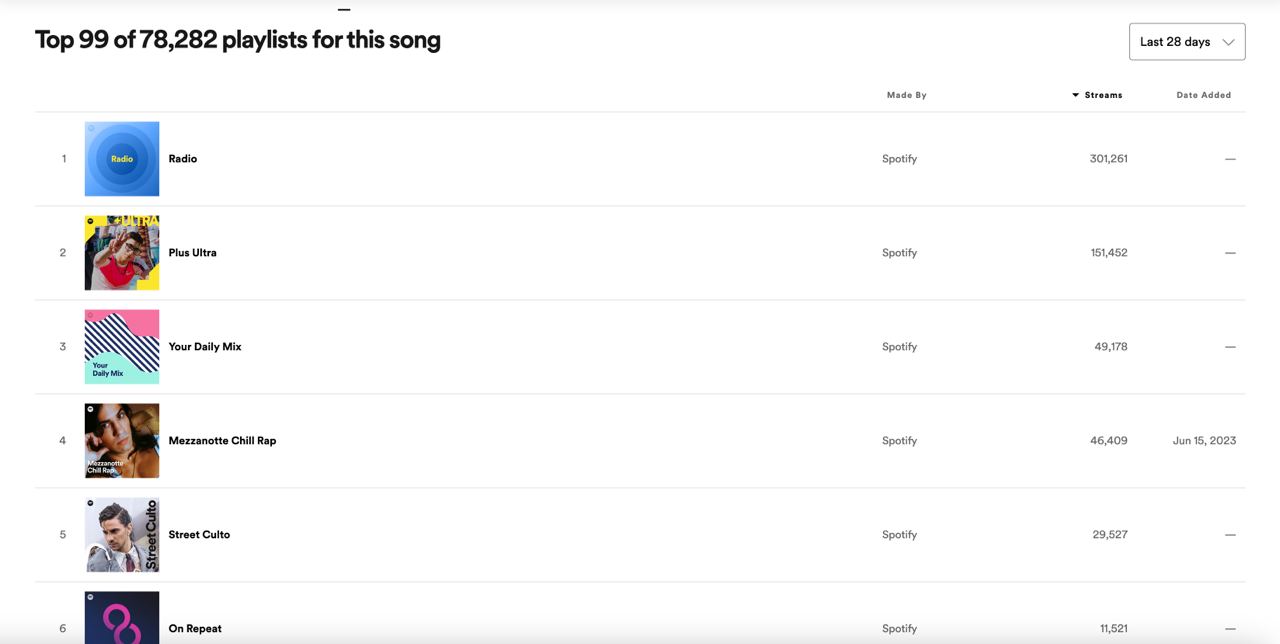 In conclusion, Matchfy's new VIP plan offers a convenient and effective way for artists to submit their music to thousands of playlists with just a few clicks. By leveraging personalized email campaigns, notifications of playlist inclusions, and access to playlist curators' information, the VIP plan enhances your chances of getting your music heard by a broader audience. Matchfy's commitment to Spotify's guidelines and its emphasis on organic inclusion without any financial exchange further solidify its dedication to supporting artists and their music promotion efforts.