Playlists Speak for Themselves: Real Talk is the Curator of the Month on Matchfy.io

We are pleased to announce with enthusiasm that Real Talk has been selected as the Curator of the Month on Matchfy.io!
This appointment is a testament to the dedication that Real Talk puts into curating playlists and engaging with the platform on a daily basis. Real Talk joins thousands of other passionate music artists and curators who contribute to improving Matchfy.io every day.
A Bit of History About Real Talk
Real Talk is a YouTube format that emerged in 2016, thanks to Bosca and Khaled. Later on, Oliver, also known as Kuma, joined the group as a director.
The dynamics of the game are simple but engaging: a rapper performs in the studio on three completely original musical beats, each lasting about two minutes, and creates three unique or improvised verses on the spot, performing them directly into the microphone, without any filters!
This formula has proven to be a success, with the release of three seasons online, significantly contributing to the expansion of Real Talk. This process has led to the growth of their team and the development of new ideas and projects.
Get Noticed!!
As you might have imagined, the Real Talk team is deeply passionate about Rap music and enthusiastically welcomes any submission opportunity. Anyone can contact them directly to propose their own track to be included in one of their playlists and get noticed worldwide!
The story and experience of Real Talk serve as a model for all music enthusiasts, inspiring them to push their musical and non-musical boundaries and to contribute to the community of curators and artists on Matchfy.io.
How to Submit My Track to Real Talk's Playlist?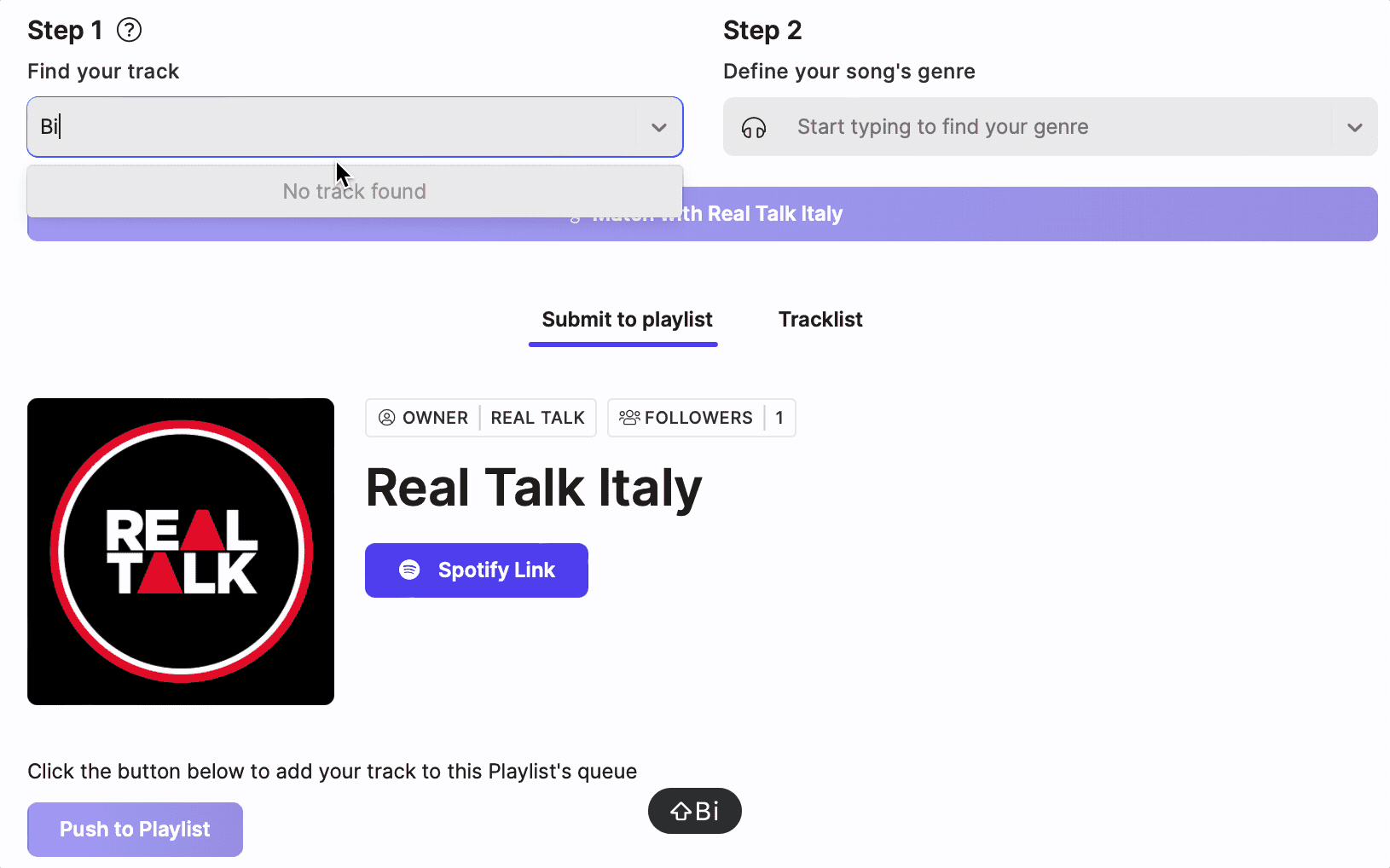 By clicking the link below, log in to Matchfy.io, then search for your song (or paste a URL) and specify the genre of the track. Click on "Match with Real Talk Italy" and then "Push To Playlist" to submit your track!
Increase Your Chance to Connect with VIPs and Artists Worldwide
The Curator of the Month program is open to everyone, and you can win too! Just stay active on the platform and keep accepting songs from other artists.
Also, remember that by accepting songs, you will receive €1 in credits for each track. If you feel that your submissions do not fit your playlists, you have the freedom to decline them and provide feedback to the artist, and the reward will still be credited!