Welcome to the new version of matchfy.io!
We are thrilled to announce the release of our latest version, which comes packed with exciting features and improvements to make your music discovery and promotion experience even better.
What is Matchfy?
Matchfy.io is a music promotion platform that connects independent artists with music curators and playlisters. It offers a range of tools and services to help artists promote their music and reach a wider audience, including playlist placement, social media promotion, and data analytics.
The platform allows artists to submit their music to a network of curators and playlisters who can then add their tracks to their playlists. This helps artists gain exposure to new listeners and potentially increase their popularity on Spotify.
In addition, Matchfy.io provides a variety of resources for artists to help them grow their fan base and reach their career goals. This includes tools for analyzing their music performance, collaborating with other artists, and promoting their music on social media.
Overall, Matchfy.io is a valuable resource for independent musicians who are looking to take their music promotion to the next level and achieve success in the highly competitive music industry.
How is Matchfy different now?

Our new version includes a revamped user interface, making it easier and more intuitive to navigate the platform.

We've also improved our search algorithms, enabling more accurate results and better recommendations based on your music preferences.One of the most significant updates is the addition of new features to our artist promotion tools, allowing you to reach a wider audience and boost your exposure on the platform.

We've also enhanced our analytics dashboard, giving you greater insight into your music's performance and engagement metrics.
New Pricing?

We've just launched a new "agency" plan on Matchfy.io!
This plan is designed for music agencies and managers who are looking to promote multiple artists on our platform.
For a limited time, we're offering a special discount on this plan to celebrate its launch.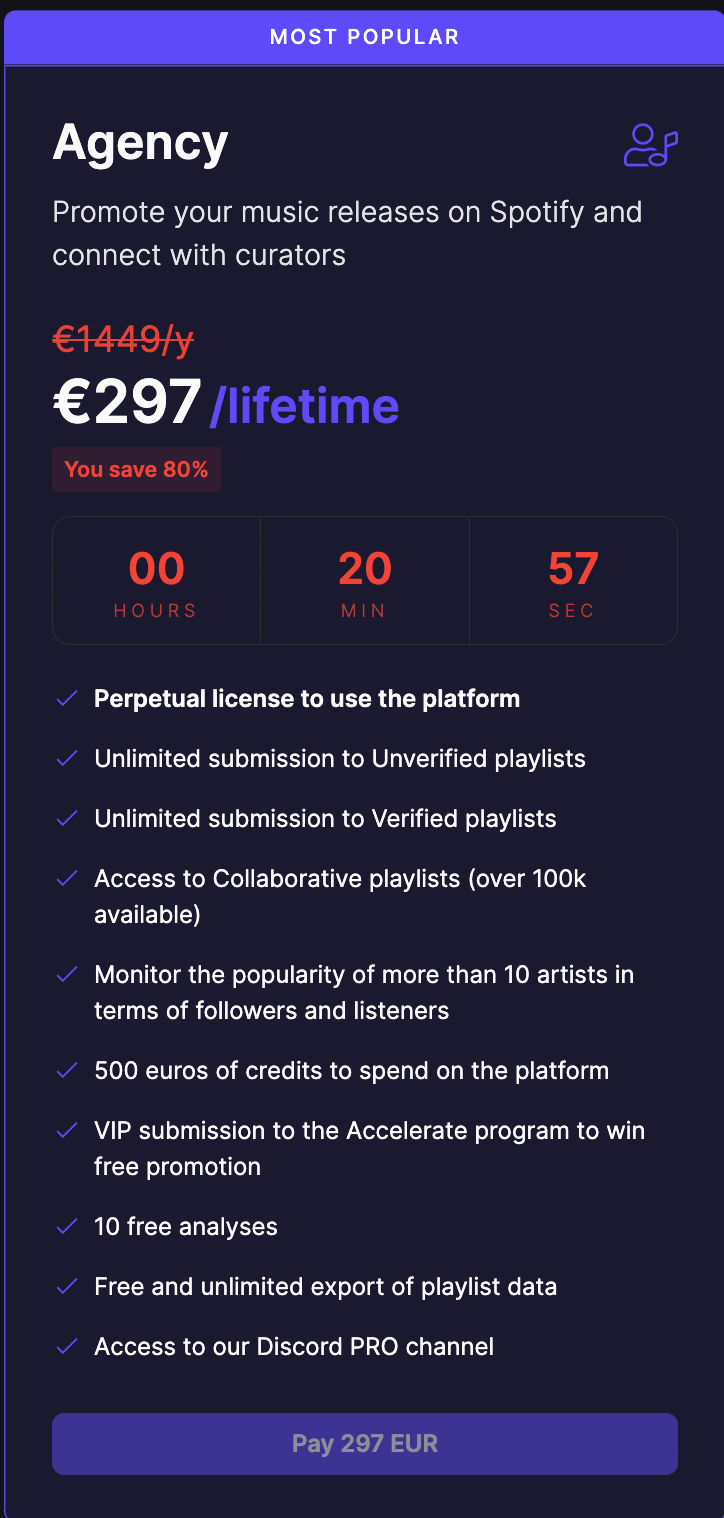 With the agency plan, you'll have access to all the features of our standard plan, plus additional tools for managing and promoting multiple artists.
This includes custom branding, priority support, and advanced analytics.
Don't miss out on this chance to upgrade your music promotion game and save money at the same time. The discounted price is only available for a few days, so act fast and sign up for our agency plan today!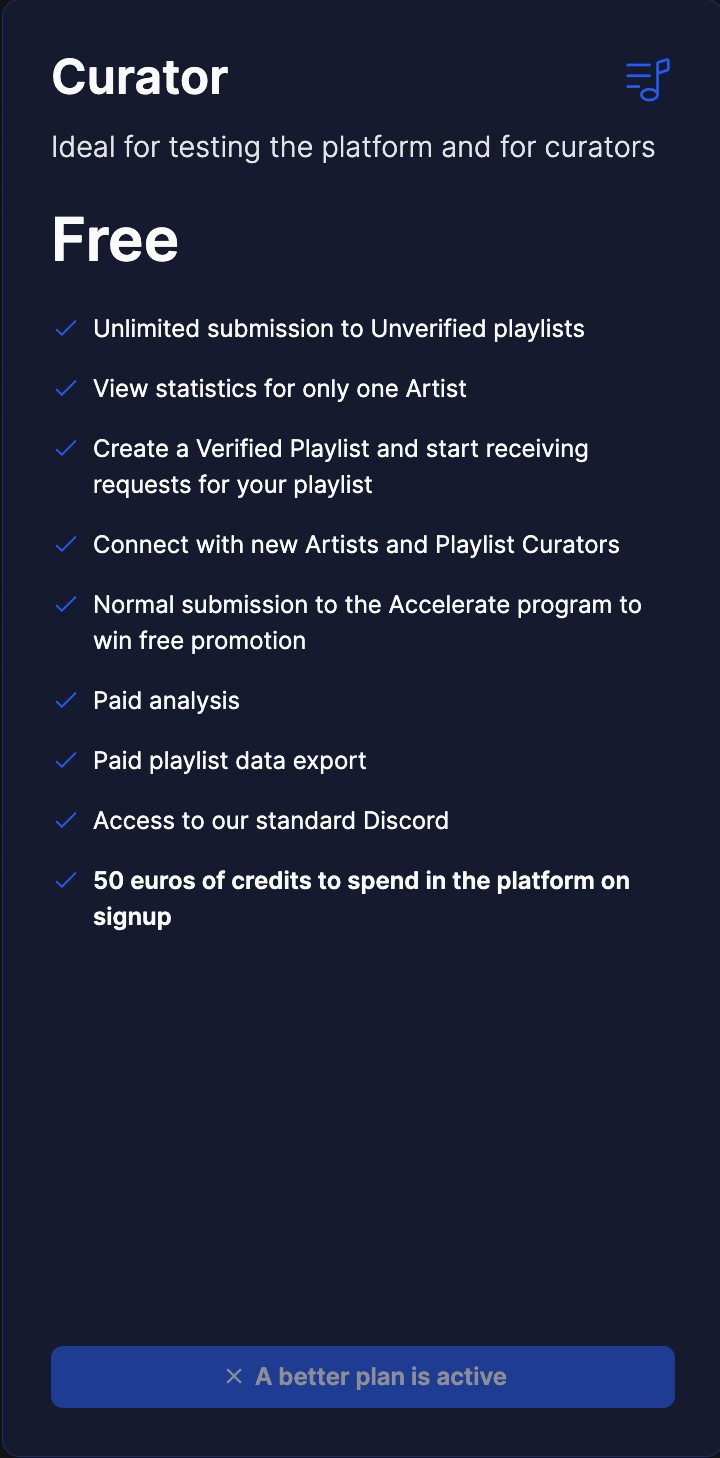 What can curators do now?

We're excited to announce a new feature for curators on Matchfy.io!
Now, curators will be able to gain a new follower for every request they receive to add a track to their playlist.
This is currently the only way to gain new followers for free on Spotify.
With this new feature, curators can now expand their audience and gain more exposure on our platform. As a curator, all you have to do is review and approve new track requests for your playlist, and you'll automatically gain a new follower each time.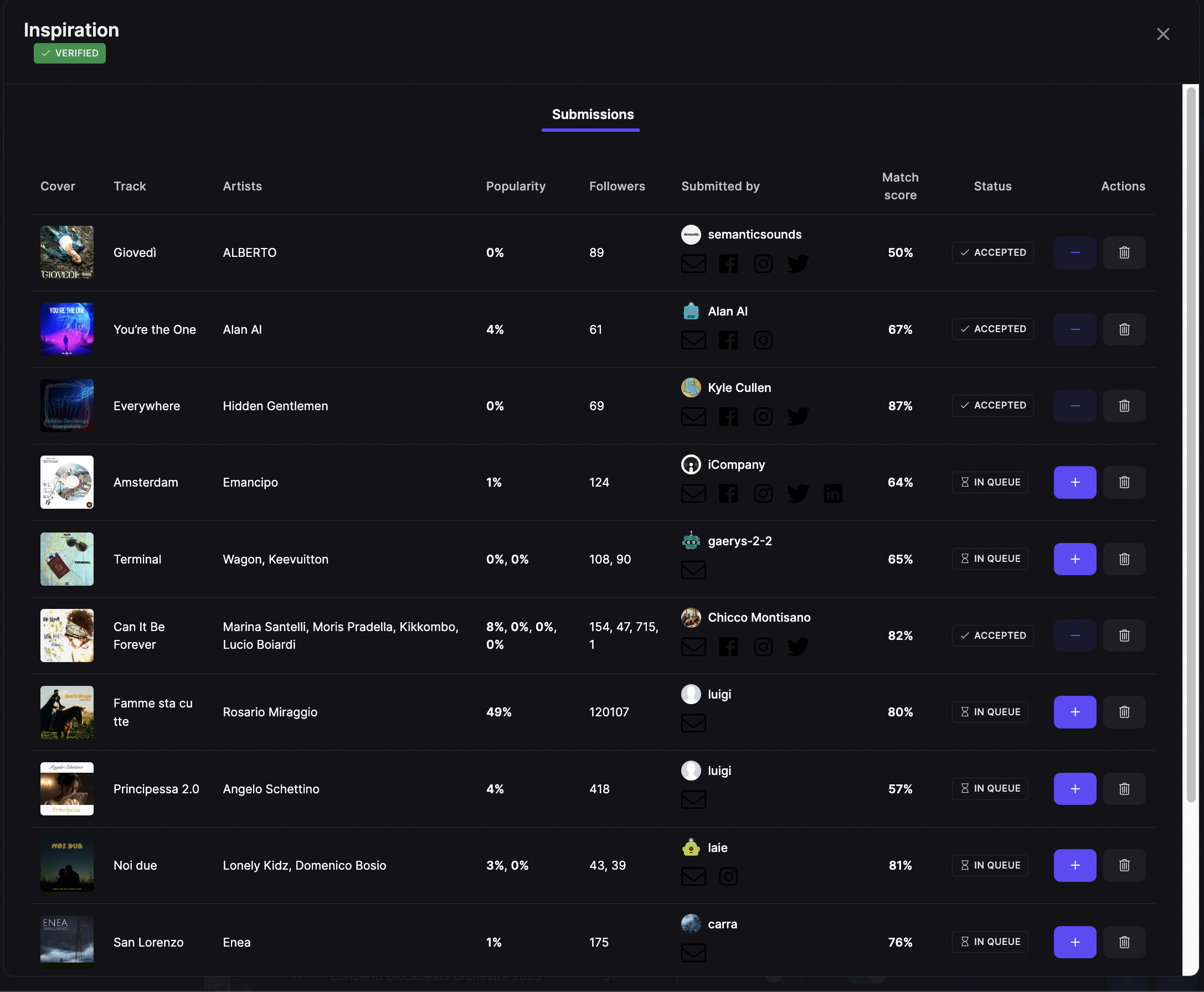 This feature is designed to benefit both curators and artists, as it provides an incentive for curators to add more tracks to their playlist while giving artists a way to promote their music to a wider audience.
Also Curators will now be able to manage all their track requests from a new section called "Playlists" in their profile. This is currently the only tool available that allows curators to view and manage all their submissions in one place, and it's completely free!
With the new "Playlists" section, curators can easily review, approve, or reject track requests for their playlists without having to navigate through multiple pages or email notifications. This makes it much more convenient for curators to manage their playlist submissions and keep track of their progress.
We believe that this new feature will help streamline the curation process for our users and make it easier for curators to discover new music and connect with artists on our platform.
How is the analysis different?
As of now, artists will be able to view data and analytics in the "Analysis" section of their profile. This includes information on their popularity, the type of audience they have, and with which other artists they can collaborate.
This new feature will give artists a better understanding of their music and their audience, allowing them to make more informed decisions when it comes to their music promotion and collaborations. With this information, artists can identify which other artists they can work with to reach a wider audience and grow their fan base.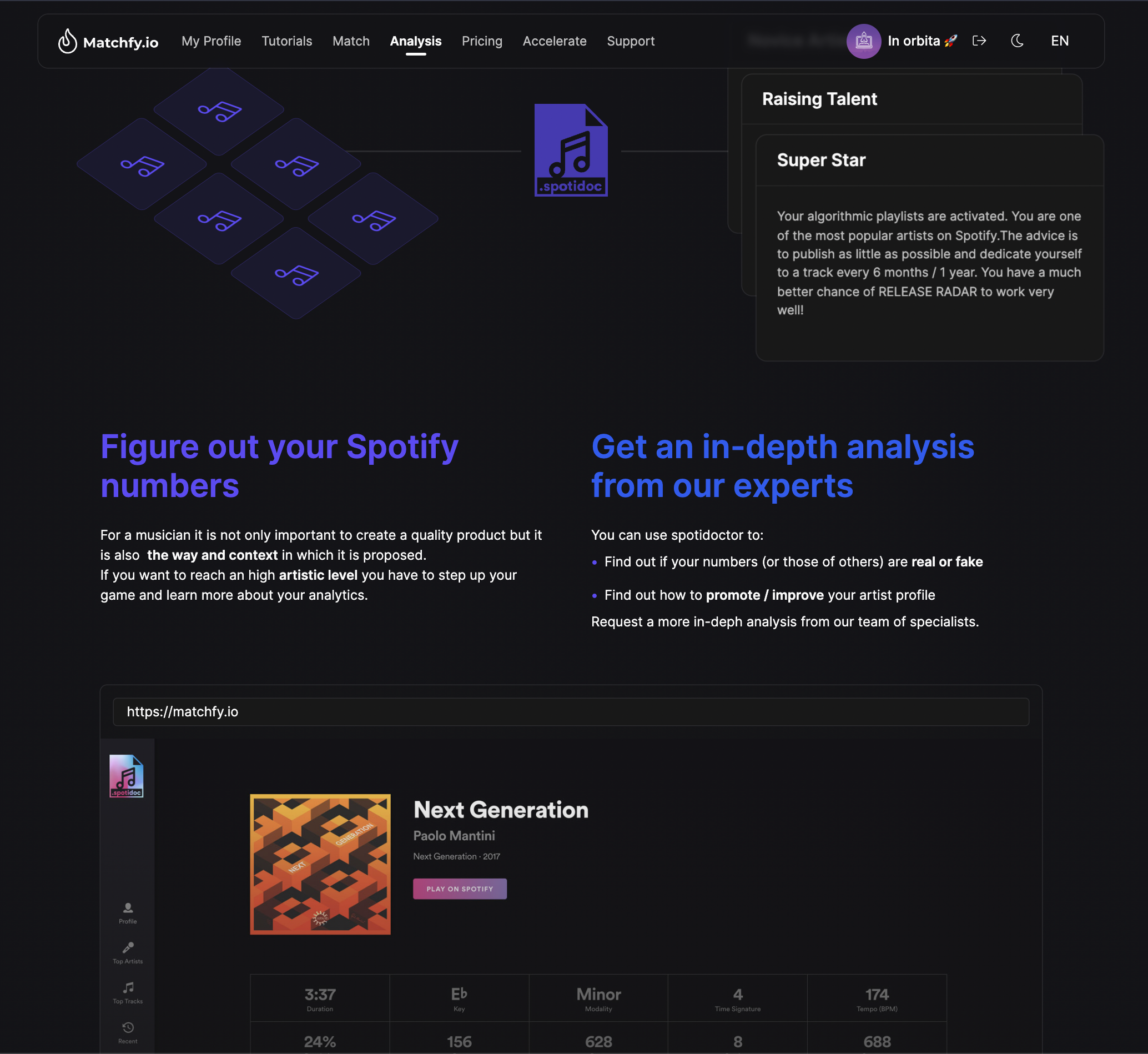 What is VIP promotion?

We're thrilled to announce an exciting update to our VIP promotion feature on Matchfy.io! Now, users can send their music to hundreds of thousands of playlists with just a few clicks, and all of the work can be tracked from the VIP promotion tab within the platform.
This new feature is designed to make it easier than ever for artists to promote their music to a wider audience and grow their fan base. By sending their music to a large number of playlists, artists can increase their chances of getting discovered by new listeners and potentially reach new heights in their career.
Additionally, the new VIP promotion tab will allow users to easily track the progress of their campaigns and see how their music is performing on different playlists. This valuable data can then be used to optimize their campaigns and further increase their chances of success.
Overall, we believe that our new version of matchfy.io represents a significant step forward in our mission to connect artists with their fans and listeners. We can't wait for you to try it out and see the improvements for yourself.
Thank you for your continued support, and we look forward to your feedback on the new version!